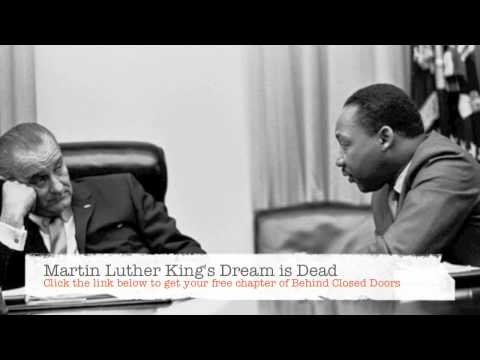 Enter your email address below and get your free chapter today "Without Prejudice", and your free interactive ebook on August 28, 2013 Martin Luther King's Dream is Dead (Behind Closed Doors).
Which includes a political investigation: People Labeled Black Have NO Future on Planet Earth (Only a Manipulated "MDSG" One By Default), filled with information from various:
Global Experts

Professors

Professional Observers

Whistleblowers
…and much more.
Both interactive ebooks are FREE and will be available on August 28, 2013 to subscribers only.
You can also get updates here:  Follow @sayireporters

Between 1957 and 1968, Martin Luther King traveled over six million miles and spoke over twenty-five hundred times regarding racism in America, appearing wherever possible there was racial injustice.
In addition, Dr. King wrote five books as well as numerous articles concerning racial discrimination in the US. During those 11 years of blatant racism, he led many protests that caught the attention of the world providing what he called a coalition of conscience against racial injustice.
MLK directed a peaceful march on Washington, D.C., of over 250,000 people to whom he delivered his address, "I Have a Dream" August 28, 1963. Nevertheless Dr. King was arrested over twenty five times and assaulted on numerous occasions for his efforts against racial injustice aimed at black people in America.
Martin Luther King was named Man of the Year by Time magazine in 1963 for his "I Have a Dream" speech and became not only a symbolic leader for African bloodlines existing in America… as a result of the horrors of the Atlantic slave trade, but also a world figure for people labelled black by their colonial or slave masters of their minds and souls.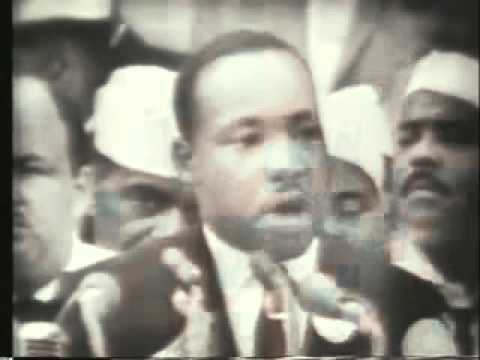 MLK would also express his concerns about the Vietnam War, it would be this concern expressed by Dr. King that would bring him into direct confrontation with the philosophies of "MDSG", one could call this the point of NO return, as you'll discover in this conclusive free interactive ebook due August 28, 2013 Martin Luther King's Dream is Dead (Behind Closed Doors).

The My Lai Massacre in Vietnam… the killing of over 500 innocent men, women and children in their homelands by the US Government within seconds after the photo (below) was taken… all life young or old gone… it was first reported as a great American victory in the New York Times.
Exactly one year after Martin Luther King's speech of April 4, 1967 "Beyond Vietnam: A Time to Break Silence", Dr. King (a man against the forces discrimination and injustice world wide) was taken from the people and his family at age 39 deliberately… prior to his planned Poor People's Campaign involving all races and religious backgrounds.
Since April 4, 1968… the Dream was officially hijack behind closed doors on both sides of the Atlantic, by what many have come to know as the "Special Relationship", under any guise conceivably possible even to this very day.
As a result the status quo of racism is still with us 50 years after Martin Luther King delivered his "I Have a Dream speech", not only to the people of America, but to the world… which was also observed by colonial and slave masters existing by bloodline.
Nevertheless racism has essentially got deceptively smarter and wiser, learning from past mistakes decade after decades whilst getting away with numerous cases of… more than just murder around the globe under any guise.
However on occasions arrogance or loss of self-control does let its hair down from time to time hence: Rodney King to Stephen Lawrence, but as you know, there are too many high profile racial injustice cases to mention here, and thousands more that never surface… regardless of which side of the Atlantic you may reside.
Nevertheless racism remains a status quo that effectively destroys and shapes the destinies of millions of lives daily mild or brutal, blatant or discreet around the world, whether in the womb or not to this very day, far beyond… what Martin Luther King could have ever imaged, prior to his "I Have a Dream" speech and finally his assassination…
…during his "blatant era" of discrimination and injustice (just take a good look at these 2007 statistics below, because… this is NO accident), like everything else that you may care to read about and / or see around you today, whether you choose to notice the deception or not.
Racial injustice in many aspects have discreetly reached new heights and broken new records not just in America, but also in the United Kingdom especially in England since 1968… after the "Rivers of Blood" speech delivered by Enoch Powell 11 days after Martin Luther King's funeral April 9, 1968.
Powell died February 8, 1998 at age 85 and not age 39. In addition, he was awarded the royal honor by Queen Elizabeth II an MBE (the Most Excellent Order of the British Empire) as seen pictured below.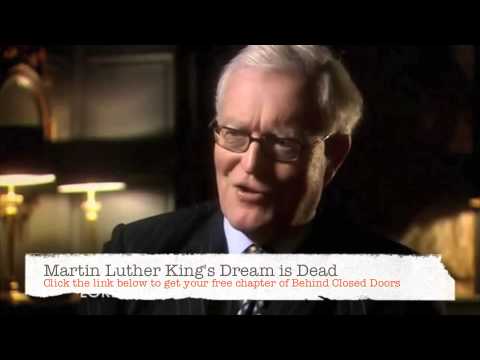 Individuals that have declined the royal honor include (but not limited to):
John Lennon who returned his award in 1969 as part of his ongoing peace protest against Britain's involvement in the Nigeria-Biafra War, and against Britain's support of America in the Vietnam War (Lennon was murdered 11 years later in New York)
Benjamin Zephaniah in 2003 who stated: it reminded him of "thousands of years of brutality". He went on to say: "It reminds me of how my foremothers were raped and my forefathers brutalised."
Others who have declined the medal included David Bowie.
Bowie declined the royal honour of Commander of the British Empire in 2000, and turned down a knighthood in 2003, stating:
"I would never have any intention of accepting anything like that. I seriously don't know what it's for. It's not what I spent my life working for."
33 years after Dr. King's murder and the "Rivers of Blood" speech of April 20, 1968, Amnesty International condemned the UK government in 2001 for its "absolutely inadequate" response to allegations of police brutality and deaths in custody.
Nevertheless three decades after the murder of David Oluwale from Nigeria by two English police officers in 1969, and thereafter countless unresolved deaths in custody of ethnic minority groups, Amnesty International concluded that the police in the UK regularly use harsher measures against the black community and courts hand down tougher sentences to black offenders.
Amnesty had launch a report into racial injustices throughout the world, the human rights group urged the United Kingdom to look "closer to home" at its record of institutional racism in the criminal justice system and especially in the police force.
Kate Gilmore, chief executive of Amnesty International's international secretariat, said:
"The government in the UK – including its police force – in Amnesty International's view falls below the standards that every citizen could reasonably expect of it. She added that the government shared responsibility for acts of racial abuse because it had failed to act on reports of abuse with due diligence…"
Amnesty International's 2001 research revealed that the police target the black community with particular practices such as stop and search operations. Black people faced more serious charges for the same offences than whites, were less likely to be just cautioned and were more likely to be imprisoned.
Over tens years later, not much has changed despite promising words by various political leaders to the general public, not even since… the killing of David Oluwale, who was labelled by police officers in England as nationality: WOG, prior to being beaten to death like an animal in 1969. http://www.guardian.co.uk/world/2001/jul/25/race.ukcrime
 46 years after MLK's "I Have a Dream" speech August 28, 1963
41 years after Dr. King's assassination April 4, 1968
…and two months after the above audio recording, the following events took place (but far from limited to):
UK - April 2009
"UK Racist judges forced me out, claims black magistrate"
Racist judges in England tried to force out a black magistrate after she claimed they treated black defendants unfairly, a tribunal heard. Iris Josiah was bullied and victimised by senior white magistrates after raising concerns about a culture of racism towards blacks in the criminal justice system.
She said black defendants were being found guilty even if they were innocent, were jailed for longer and were more likely to be sent to prison and refused bail…

UK - February 2010
"CPS 'segregated black and white lawyers' Crown Prosecution Service faces eight racism cases brought by employees
The Government agency responsible for bringing prosecutions in England and Wales is facing widespread claims of racism, including allegations that senior black lawyers have been segregated from their white and Asian colleagues…
Some of the most disturbing claims centre on a Crown Prosecution Service (CPS) office in south-east London, where the botched investigation into the murder of black teenager Stephen Lawrence led to findings of institutional racism against the police…

UK - October 2010
"More black people jailed in England and Wales proportionally than in US"

The Second Decade of the 21st Century (again far from limited to):
USA – October 2011
"More black men are behind bars or under the watch of the criminal justice system than there were enslaved in 1850, according to the author of a book about racial discrimination and criminal justice."

Martin Luther King spent time in many jail cells across America for peacefully protesting against discrimination and injustice… in pursuit of a dream through non-violence
UK - January 2012
"Official figures understate the number of people who die in custody after being restrained by police, a BBC investigation has found."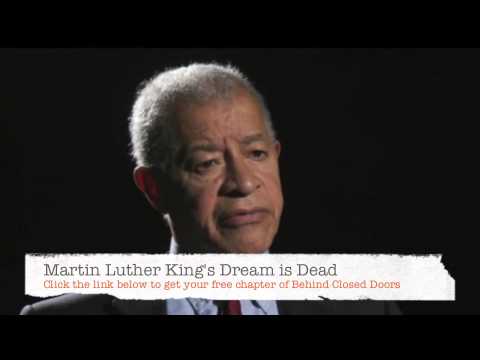 Racism in the criminal justice system, whether police brutality results in deaths in custody or not, is deeply disturbing and is largely no accident by any stretch of the imagination on both sides of Atlantic.
And there is much more between this "Special Relationship" that is unknown to the masses for which each President or Prime Minister have claimed to serve the public with integrity since April 4, 1968 and prior to Martin Luther King I Have a Dream speech of August 28, 1963.
What you'll discover in this free chapter "Without Prejudice", you may find alarming, shocking or disturbing, yet it remains a reality and part of a larger and more wider picture unknown to millions world-wide.